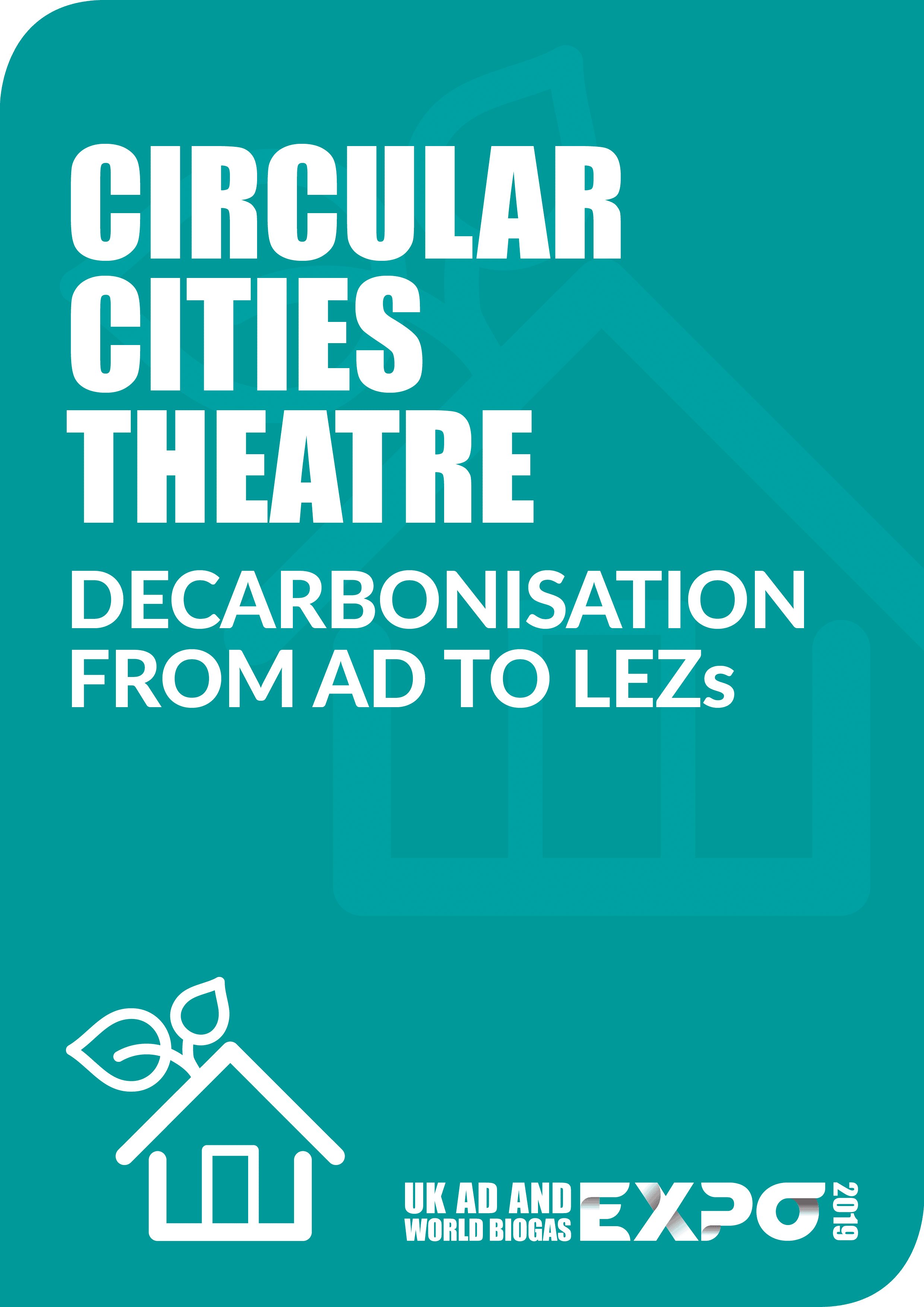 This theatre is sponsored by…
Programme is subject to change
HELGA and the Pathway to Securing Public Procurement of Biogas in the UK
John Scott-Kerr, Head of Business Development, Future Biogas (Chair)
Steven Perry, Chartered Energy Manager/Area Utilities Manager, Defence Infrustructure Organisation
Claire Gibney, Commercial Category Lead -Energy Core Plus, Crown Commercial Services
Future Biogas has blazed a trail in securing a power purchase agreement to supply biomethane to the Ministry of Defence. More such opportunities will become available under what is known as the Heat Networks and Electrical Generation Assets' agreement, a government instrument that seeks to increase the UK's energy security and put small scale renewable energies at the forefront of decarbonising the public sector. This panel will consider the process and the opportunities it presents.  
Question Time: What Next for Green Gas in the UK?
Matt Hindle, Head of Gas, Energy Networks Association (Chair)
Dan Purvis, Senior Investment Manager, Ingenious Capital Management
Martin Shannon, Commercial Manager, Cadent
Colin Thomson, Energy Futures Manager, SGN
Helen Fitzgerald, System Operation Support Manager, WWU
Ending the UK's dependency on natural gas will be essential if the country is to meet its long-term climate targets. To spur the required growth in green gas production this panel considers what incentives are required and how must the grid change.
The Need for a National Strategy for Biogas Transport Fuel in the UK
Mike Foster, CEO, National Gas Vehicle Network (Chair)
Becky Rix, Corporate Communications, Roadgas
Liv Harder, Investment Manager, Ingenious Group
Martin Flach, Alternative Fuels Specialist, Warren Group
Tony Griffiths, Director, Gas Bus Alliance
Biowaste is available in every major town and city in the UK and could be turned into bio-CNG or bio-LNG to fuel HGVs, public transport and refuse collection vehicles, to tackle both climate change and the escalating public health crisis caused by air pollution. This panel considers what needs to be done to encourage central and local government to make the connect and deliver a national strategy for turning waste into energy, and how can the transport sector harness this potential?
The Role for Anaerobic Digestion in Delivering Heat Networks
Rachel Espinosa, Food Waste To Energy Director, BHESCo – Brighton & Hove Energy Services Co-op
Peter Anderberg, Founder, The Smart City Alliance
Local heat networks are commonplace across mainland Europe and are seen by the UK's climate change committee as the key to decarbonisng this sector, which it describes as one of the 'great challenges facing the nation'. This panel will consider the contribution biomethane can make to decarbonising heat by looking at the European experience, with pioneering examples of its adoption today from major UK developers and community projects.
A Net Zero Future for Biogases: Together in Electric Dreams?
Dr Keith Simons, Principal Scientist, SHV Energy
In its recent report the Committee for Climate Change (CCC) envisages a decarbonised future where the UK emits zero carbon dioxide to the atmosphere on a net basis, relying on a massive expansion on electric and hydrogen generation supported where necessary with carbon capture and storage. Increases in efficiencies, afforestation and major societal life-style changes help mitigate the technical challenges.
Biogases such as biolpg and biomethane (or biogas) are largely marginalised in the report (with a word count less than 10 between them) –"biofuel" fares only slightly better. This is considered a strategic mistake by the CCC as from a practical perspective, achieving net zero will be impossible without the contribution that biogases together with the opportunities which will come from increased quantities of electrons/hydrogen.
In this talk we will consider how biogases can not only support the attainment of the net zero ambitions necessary to achieve the climate goals – but more importantly work together with the electricity-centric future as dreamed about by the CCC, especially where biomethane and bioLPG can avoid nightmare scenarios for consumers and businesses at a practical and economic perspective.
Putting Anaerobic Digestion at the Centre of Commercial Sustainability as part of the Clean Growth Strategy
John Turvill, Agriculture & AD Specialist, Ecotricity (Chair)
Jenny Phelps MBE, Soil Health Specialist, Farming Wildlife Advisory Group
Ian Wilkinson, MD, Cotswold Seeds
Nadine Smykatz-Kloss, Snr Ecologist and Renewable Energy Projects Manager, Stroud Valleys Project
Fiona Sharman, Master Planner, Indigo Landscapes
Wojtek Behnke, Managing Director, the Aqualate Estate
This panel will make the case for AD to be at the centre of commercial sustainability in line with the Clean Growth Strategy and 25-year Environment Plan while fitting in with the aspiration of the current Agriculture Bill.
Why CO2 is the molecule of the future for our industry
Harmen Dekker, DMT Environmental Technologies

In Europe, an increase in biomethane production is expected as a result of REDII (Renewable Energy Directive).  CO2 has a potentially large value for anaerobic digestion operators and developers. This panel considers the options.
Small Scale and Micro-AD – A Growth Market
Chris Morris, Technical Director, Fre-Energy
Yashas Bhand, CEO (Founder), Yasasu
With farmers coming under pressure to reduce their carbon footprint and tackle ammonia emissions, interest in Micro-AD has never been greater. The hospitality sector, especially eco-lodges, are also exploring its potential. This session will consider the viability of meeting this emerging demand.
IVECO – Driving the Circular Economy
Jorge Asensio Lopez, Alternative Fuels Business Development and TCO Manager, IVECO
IVECO is the European leader in natural gas powered commercial vehicles, including vans, medium and heavy duty trucks and city, intercity and touring busses and is a commercial vehicles brand of CNH Industrial. Jorge Asensio Lopez – Alternative Fuels Business Development and TCO Manager, IVECO will explain how IVECO is not only assisting in decarbonizing transportation, but also enhancing the circular economy whilst delivering real world benefits to commercial vehicles' operations.