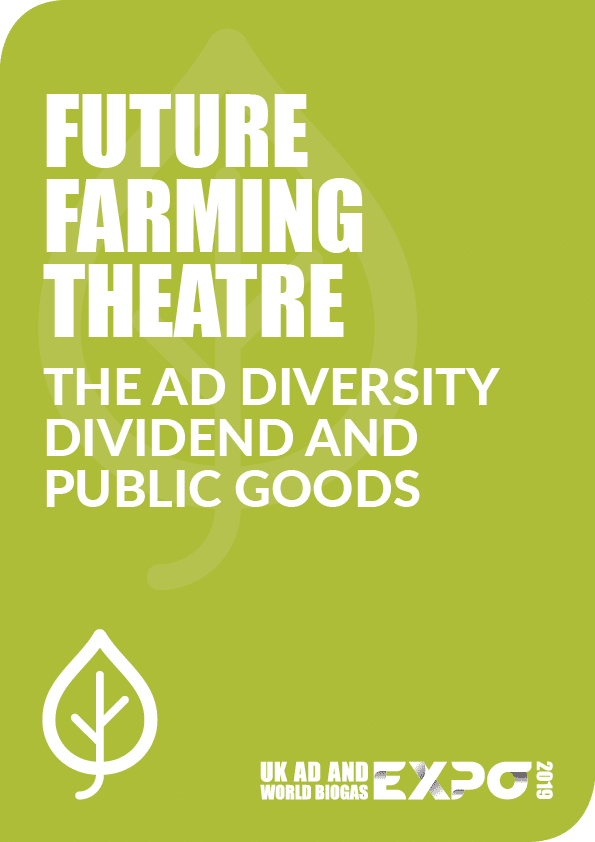 PROGRAMME IS SUBJECT TO CHANGE
The future of on-farm anaerobic digestion in the UK
Jonathan Scurlock, Chief Adviser, Renewable Energy and Climate Change, NFU
John Williams, Principal Soil Scientist, ADAS
Innes McEwan, Head of Farming, Future Biogas
Dr Jeremy Woods, Imperial College London
Lucy Hopwwod, Lead Consultant for Bioenery and AD, NNFCC
With any post-Brexit farming settlement hinged on delivering environmental benefits to mitigate against climate change and save our soils, this panel will consider key policy drivers for agriculture in relation to anaerobic digestion.
Alec Kimble, Technical Director, Aqua Consulting
Mark Clayton, CEO, Qube Renewables
Phil Gerrard, CEO, Privilege Project Finance
Angela Bywater, Southampton University
Ming Lam, Senior Consultant, Ricardo

Micro AD and the emerging trend for farmer clusters and co-ops puts anaerobic digestion within reach of most farms. This panel considers what options are available for those wishing to adopt the technology.
Clamping, novel feedstock and feedstock management
Christine Parry, Head of Technical and Development, Amur
John Burgess, Maize & Hybrid Rye Product Manager, KWS
Will Wilson, Ark Agricultural
Jørgen Fink, Nature Energy/Xergi
Valuable energy content can be lost from feedstock crops if they are not properly stored prior to use in the anaerobic digester. Find out about the best practice to optimize your energy return on investment.
Diversifying farm incomes – the energy and non-energy benefits of anaerobic digestion
Jonathan Scurlock, Chief Policy Adviser, Renewable Energy & Climate Change NFU
Ollie Moore, ADBA
Cath Crowther, Partner, Rural, Bidwells
Nick Cheffins,  MD, Peakhill Associates
Diversification is widely thought to offer considerable scope for improving the economic viability of many farm businesses, either through delivering an income stream as an energy provider or simply by cutting operational expenditure. This panel considers the benefits of adopting on-farm AD.
Case study: Stephen Temple, Copys Green Farm
Stephen Temple of Copys Green Farm on how anaerobic digestion can cut energy, transport and fertilizer costs across the whole farm operation.
How far off is the biomethane tractor and other farm machinery?
Presentation by CNHi. The biomethane tractor is close to going in to production. It is set to be followed by other off-road machinery. This creates yet another incentive for farmers to consider deploying AD.
Controlling ammonia from digestate
James Astor, Chairman, Regen Holdings / Whites Recycling
Jon Williams, Principal Soil Scientist, ADAS
David Tompkins, Aqua Enviro
New Environment Agency rules and regulations will come into effect imminently, with others arising from the Agriculture Bill and Clean Air Act also on the cards. Find out what the new rules entail, how the anaerobic digestion of slurries and manures can reduce ammonia emissions and ways treat and spread digestate to reduce ammonia emissions.
The Natural Fertiliser files: optimizing the use and distribution of digestate
Innes McEwan, Head of farming, Future Biogas
Stephen Temple, Director, Copys Green Farm
Nigel Lee, General Manager, Amur
Anna Becvar, Director, EarthCare Technical
With soil fertility and food security becoming an increasing concern, new markets are emerging for the natural fertilizer produced through anaerobic digestion. Discover how to cash-in on your digestate from those who are already succeeding.