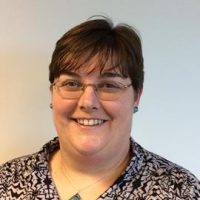 Position: Head of Health, Safety and Environment
Helen has over twenty years experience working within the public and private sectors in a variety of operational and strategic roles across several industries.
Helen graduated from Bangor University with a degree in Geological Oceanography with every intention to work in the Oil and Gas industry as a Geophysicist. However, life has some surprises and after a short stint in the NHS Creditor Payments team, Helen started work in the National Rivers Authority shortly before their transition into the Environment Agency. Helen initially worked in Water Resources monitoring river, groundwater and rainfall levels including coastal sewage outfall mapping in the South West region, before moving into Flood Warning and Flood Defence just as the Police passed over the notification of flooding to the Agency. Helen used to define flood risk areas and link with Local Authorities and Emergency Services for evacuation management. Helen moved back into Water Resources as a Hydrometric Team Leader and was immediately seconded into the Regional Health and Safety team. From here, Helen's career developed through a variety of H&S roles culminating in National H&S Advisor for Risk Management and Water Safety. Helen designed and initiated the National Water Safety course utilising white water centres across the UK for training Agency staff in self rescue and team rescue.
After travelling around the UK with the Environment Agency, Helen settled into a H&S Manager's post within a Local Authority and assisted the Authority in discharging Improvement Notices and other Enforcement Action as well as turning the H&S and Occupational Health teams into income generating teams for the Authority.
Helen left Local Authority and retrained as a Lecturer working in local colleges and universities across Wales delivering H&S courses, NEBOSH and IOSH Courses as well as undertaking consultancy for groundwork and construction firms, care homes and local schools.
Helen started work in the Risk Management sector attached to the Insurance Industry in 2014 and has grown the Jelf Risk Management team from a small team based in Yorkshire to a large scale team covering the UK. Helen is responsible for delivering the Health and Safety, Environmental Management Consultancy Service and the National Training Programme to Jelf and Marsh Clients.
Helen is part of IOSH's Professional Ethics Committee serving IOSH members and keeping the Code of Conduct up to date and fit for purpose. Helen is also a NEBOSH trainer and examiner at Certificate and Diploma level.
In her spare time, Helen acts as taxi service for her kayaking mad family travelling all around the UK to reach rivers with a decent flow. Helen is a keen open canoeist herself and is trying unsuccessfully to train her two unruly Labradors to sit in the canoe quietly.