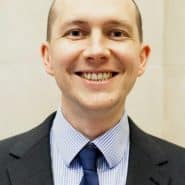 Company: Anaerobic Digestion & Bioresources Association (ADBA)
Topic: UK subsidies and incentives update.
Ollie More joined ADBA in 2014 after working for five years at Ofgem and DECC (now BEIS) on government renewables initiatives, including: the Renewable Heat Inventive, the Renewables Obligation and the Bioenergy Strategy. Before that, Ollie worked in the recycling (Waste Watch) and conservation (Trees for Cities) sectors. Other experiences include teaching English in West Africa and Mexico, a First Class BA in Economics and Politics (Sheffield) and MSc in Environment and Development (Edinburgh).