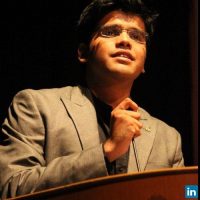 Yashas Bhand is a second generation entrepreneur with a zeal for research and technology development to cater the environmental issues.
He competed is post graduation in environmental biotechnology from Mumbai, followed with post graduate diploma in business law and entrepreneurship from NUJS, Kolkata in 2013.
With his inclination towards solid waste management and to understand the gap between knowledge and implementation, he went to purse a certification course in solid waste management planning from Un escorted-IHE,delft, Netherlands in the year 2015.
He began his career in 2013, wherein he was given a task to establish an environmental in-house r&d vertical (five elements environment ventures) for family owned venture, organic recycling system pvt. Ltd.
From 2013 to 2015, Five elements environment ventures, carried out various r&d activities, such as catalyst development for thermal based technologies, waste characteristic projects, various studies on feed-stock for bio-gas production and training programs for post graduates and researcher.
After, his learning from Netherlands, he put himself on task on mitigating the gap between planning and implementation on solid waste management planning by spearheading FEEV towards knowledge and capacity in the field of solid waste management and joining the family venture, organic recycling systems for developing technologies through his passion towards research.
Since 2016, he has served on various positions in organic recycling system, from heading New technology development for the company to heading the operation department.
He played a key role in development of the decentralization of the bio-gas technology and creating the product line YASASU Green and establishing a separate vertical Yasasu EMS pvt. Ltd.
Currently, he leads Five elements environment ventures pvt. Ltd. as a director and drives the team for creating training modules and implementing workshops for officials, consultants and other stakeholders on the waste management sector and as also leads for YASASU EMS Pvt. Ltd. as a CEO (Founder) , looking after complete engineering, project execution and technology development.